Mike Fritz is an entrepreneur, real estate investor, best-selling author, international speaker, coach, CEO & Founding Member of Titanium Capital Investments, and founder of Power Up Real Estate, a platform that helps people start in real estate investing, create financial freedom and enjoy the life they designed for themselves.
Mike started investing in real estate 21 years ago when he built his first multi-family property. Since then, Mike and his wife, LeAnn, have amassed millions of dollars in personal real estate. After raising millions of dollars in private capital for multi-family real estate, Mike decided to start sharing his secrets to help others achieve financial freedom and center his business around the amount of value he could add to his clients and partners.
Power Up Real Estate YouTube Channel​
My passion is helping people with a job start investing in real estate and replace their income…and even go full time if they want to. On my channel, you'll find weekly investing tips, real estate related product and software reviews and YouTube exclusive interviews. I believe there has never been a better time in human history to start investing in real estate and build generational wealth for your family.
Take advantage of Mike's 21 + years of experience and learn what you need to think about when considering a property.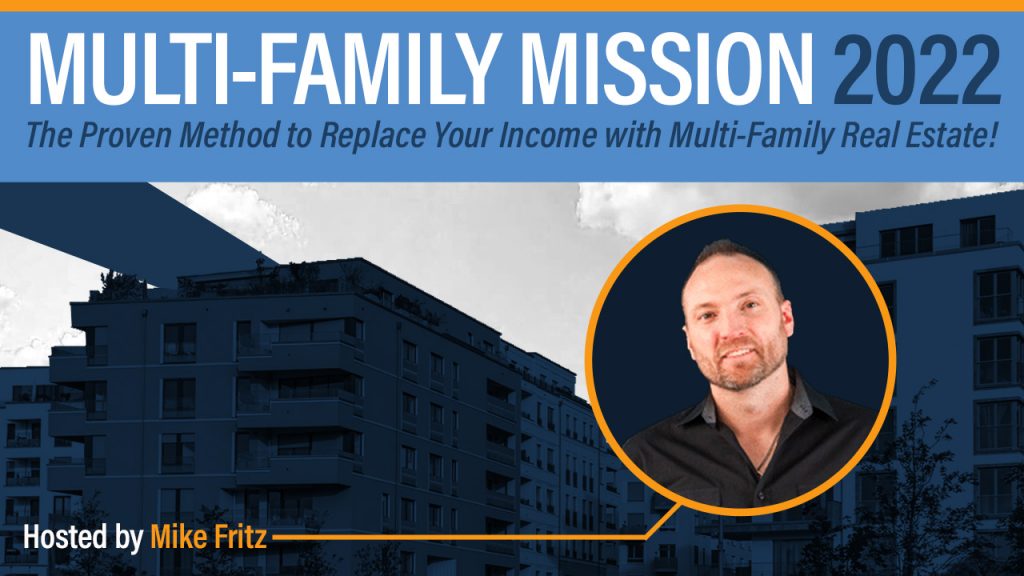 with Mike Fritz
The Proven Method To Replace Your Income With Multi-Family Real Estate In as little as 71 Days!

Learn my step-by-step method to find multi-family deals, even in an inventory short market.
On Demand Training Course
Now Is The Best Time To Bust Into the Multi Family Market With the Multi Family Blueprint Academy...
WE HAVE TAKEN LITERALLY EVERYTHING YOU NEED TO KNOW ABOUT MULTI FAMILY INVESTING...
...Put it ALL together and made it available to you in the Most VALUE PACKED ROADMAP we could offer, from knowledge, to funding, to teams, to property ownership... We have covered everything from A to Z so your Multi Family process is as clear and stress free as possible...
Hours of content in the Multi-Family Blueprint Academy! Exclusive interviews with some of the BIGGEST EARNERS IN REAL ESTATE! Checklists, workbooks, and templates to help YOU succeed!
What Past Students Are Saying
"Mike and his wife LeAnn's hearts are wide open and so real and it's the reason we consider you two to be our best friends for years and years since we first met and I am very grateful to have you in our life and I am looking forward to the deals we are doing together and going to be doing."

"Going to stuff like (Mike's challenge) is when it became real to me. All I have to do is do what these people are saying and get rid of some of the skepticism and it's real. You really can buy a Multi Family House with no money. You really can be broke, with bad credit, in your parent's basement and have like 40 houses."

"Mike Has Absolutely Delivered On EVERY WORD That He Has Said, So I Did Everything He Said... Thanks For Changing My Life For The Better! Mike Is A Person Of Great Integrity."
Odio adipiscing mattis in vel ut varius ut dignissim odio ut enim duis a justo rhoncus sed lectus etiam pellentesque nisl mollis pretium nunc.
Elementum aliquam hendrerit volutpat
Multi-Family MASTERCLASS
Multi-Family BLUEPRINT ACADEMY